Get your Digital copy of Mark Nisbet's latest album 'Space and Time' for £7.99.
Order this album to listen to a new direction for progressive music and experience the unique sounds and melodies.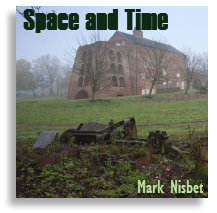 1. Deep Space Transport

3. Steam Power

5. Galactic Parade

7. Wardance

9. Elvan Dance

11. Escaping Orbit

12. Altitude
Click Here To Download "Space and Time" Now!
Mark Nisbet has been making music for over thirty years blending computer generated sounds with real instruments to explore the best of both worlds. Influences have come from the worlds of folk, rock and jazz to meld into something new that has been created as music for music's sake without being pulled in any particular direction through the pressures of what is current or cool. This is music for all time that reaches out to emotions and feelings and creates a unique atmosphere.
Mark's main instrument is bass guitar which he also plays in several bands as well as supporting solo artists. Mark also plays double bass, guitar and keyboards.
So click the order button below and get instant access to Mark Nisbet's New album, "Space and Time".

You will receive a digital copy of "Space and Time" via email immediately upon completing your order.