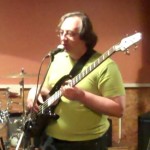 Welcome to my new Blog, here is some information about me:
I have been playing bass guitar for over 30 years originally in local rock bands and then at college where I spent considerably more time playing music than studying for my degree. I have played many gigs around Hampshire and a few in London but that was quite a few years ago.
Having moved to the midlands for work I lost contact with the music scene and spent a lot of time learning to make music by myself using computers. As the internet developed I was able to link up with other musicians that way and this lead to me joining some Internet Bands and creating quite a lot of recorded material but little opportunity to play live. I am now rehearsing with a local folk rock band in order to get out and play some gigs locally.
I have more recently started playing double bass and continue to produce my own music playing or programming all instruments and singing though I would like to convert much of this to play in a band format at some point.
I listen to and play a wide variety of music including folk, classic rock. Progressive rock and jazz, though I have been known to produce, House and Trip Hop styles of electronic music as well.
the essentials of Progressive Rock Most Significant Bands Based on peoples votes for the […]
Read More
The Method The principal is to get the input from as many individuals as […]
Read More
Why do people like certain music and how do you find what you like?
Read More
Music has always been very important in my life but sources of listening in […]
Read More